User:Dude30500
Jump to navigation
Jump to search
I did some messy documentation of this, so it may not be the most neat.
To find info about Pikmin I used a Hex editor (I used notepad++ Hex Editor, but any other free one should suffice)
Enemy Stats:
[
edit
]
dataDir\archives\tekipara.arc

I used dataDir\archives\tekipara.dir to find what each enemy entry was. (since the internal names were spelled out in it)

Each enemy entry is separated by a bunch of "CC CC CC CC" repeating over and over
Health Offsets for each enemy:
0x74 - Beetle
0x1d8 - Mini Bulbear
0x338 - Mini Bulborb
0x498 - Breadbug
0x618 - Smoky Progg
0x778 - Yellow Wolly Wog
0x8f8 - Wolly Wog
0xa68 - Fire Geyser
0xbc8 - Breadbug Hole
0xce8 - Rock Generator (unused)
0xe08 - Rocks
0xf54 - Female Sheargrub
0x10b4 - Male Sheargrub
0x1214 - Shearwig
0x139c - Puffstool
0x1520 - Puffy Blowhog
0x16a0 - Mamuta
0x17f8 - ???
0x1938 - Water Dumple
0x1a98 - Snitchbug
0x1c14 - Tad Pole
0x1d74 - Pellet Posy
0x1ed4 - Pearl
0x2014 - Honey Wisp
0x2194 - Rocpe? Pearl Clam with Part
0x22d8 - Shell (no pearl) (game probably spawns this after pearl clam dies)
0x2434 - Spotty Bulbear
0x2590 - Red Bulborb HP
0x26f4 - Progg Egg HP?
0x2854 - Fiery Blowhog HP
0x28e8 - ???
0x29b4 - Smoky Progg
Object generation files
[
edit
]
dataDir\stages\<STAGE ID>\day#.gen

There is a plant.gen, init.gen, default.gen file in each <stage> folder
Plant.gen is obviously plant placements
init.gen is the enemies that spawn when you FIRST load the stage (so modding it and revisting that modded stage doesn't do anything) I personally just use a Day 2 file which an AR code to unlock all stages to test.
default.gen seems to have placements of immobile objects (geysers, candypop buds, geysers)
The way I found enemies was that each enemy spawn had "iket" which was the internal name "teki" but reserved once compiled in the middle of the entry.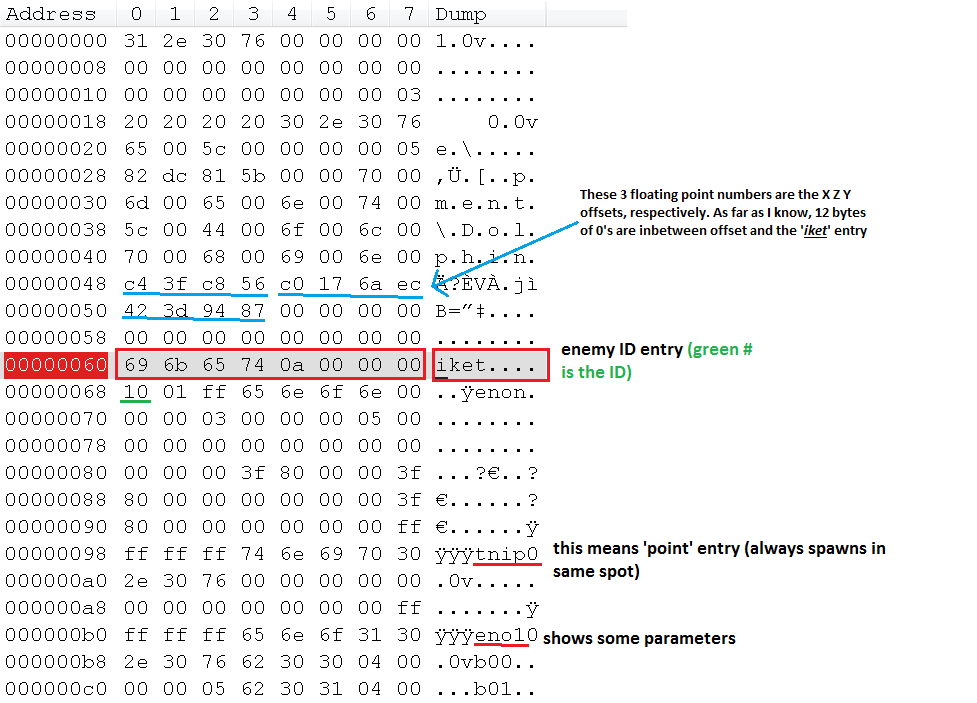 Enemy ID (for .gen files) Search for '69 6b 65 74 0a 00 00 00' XX where XX is the ID
00 = Frog
01 = Rock Shooter (unused obstacle)
02 = ? (probably the Rock itself)
03 = Dwarf Bulborb
04 = Spotty Bulborb
05 = ?
06 = ?
07 = pellet posy
08 = Bread Bug
09 = Puffstool
0a = Pearly Clam Clamp
0b = Snitchbug
0c = Breadbug Hole
0d = Lone Pearl (no clam)
0e = Lone Pearl (looks like part) (doesn't drop anything unless parameters changed)
0f = Blowhog
10 = Puffy
11 = Armor Cannon Beetle
12 = Female Sheargrub
13 = Male Sheargrub
14 = Shearwig
15 = Giant Egg
16 = Smoky Progg
17 = Fire Geyser
18 = Mamuta
19 = Tadpole
1a = Error
1b = Error
1c = ?
1d = ?
1e = Dumple
1f = Dwarf Bear
20 = Bulbear
21 = Wolly Wog
You will notice eno1 which shows some parameters, but have been cutoff in the image. The parameter list goes:
b00. which is '62 30 30 04' in hex (respawn in 00 00 00 XX days)
b01. which is '62 30 31 04' in hex (not sure)
p00. which is '70 30 30 04' in hex (not sure)
p01. which is '70 30 31 04' in hex (facing angle in integers)
p02. which is '70 30 32 04' in hex (spawn amount)
With XX XX XX XX after each parameter which is the value of each